Water Sliders – A Quick Relief From The Scorching Sun Attack
Water sliders are a great fun for outdoor parties and events. Water parks are a top favorite among people of all age group. Summer is the main time to enjoy water rides and most often people travel to different water parks in their spare time. But traveling to water parks all the time is not such a convenient option. It can be costly and the water park might be at far away location too. What is there not to like about a water slider or water games? It is full of fun and excitement. Kids too like water sliders a lot because of the entertainment aspect related to the slides.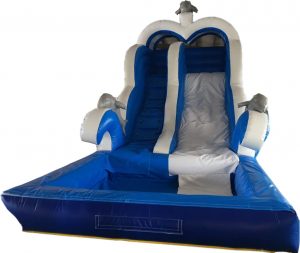 Just imagine what a great surprise it will be for your child when you present him/her a surprise party having the water slider rides. The sliders or rides can be configured differently and with a little creativity, you can have a backyard party that's both exciting and memorable. It will be easy on your wallet too. A water Slide is a really amazing attraction to have at any sort of party, especially one that is geared toward children. Water slider for rent is an easy option in Dubai and an individual can book differently designed water slider for their house parties.
Even adults can have tons and tons of fun with this party attraction. The best thing is that both kids and adults will be able to have loads of fun with this wonderful party attraction that is truly fit for most people. The sliders are the best way to beat the scorching sun and a pool party will be the ideal thing in summer. Heading out to water theme parks can be too expensive and take too long whereas paying for the water slider rental service will provide you and your guests a good time to make fun and enjoy the event at your own residence. The kids can have a blast and they will feel fresh the entire day.
If you are planning a backyard party then water sliders can be a wonderful addition to any party. It is a top time-spending opportunity for kids and provides hours upon hours of entertainment for everyone in a party. A regular hot summer day can be hectic and dehydrating. Water slider can just be the relief factor that you were looking for this summer in a party. They can be used also during hot summer days or regular sunny afternoons. There are many water slider rental companies who will rent water sliders for a backyard party. Dubai is a place where you can get such installations at the most cost-effective price. They even have convertible water slides that can be used both wet and dry.
It need not be only water sliders in your party, but sliders can play a crucial role in making your birthday celebration very special. Depending on your crowd, you might want to set up separate wading pool stations for toddlers and let the older kids have run of the rest of the yard. All these variant requirements are taken care of by the water slider installer or service provider.