Event and Party Organizers to Add Spark at Any Celebration!
Balloon bending has been an emerging art form for the last few years in which the professional party and event organizers who excel in creating different amusing structures with the help of balloons add spark to the event. These professionals are competent enough in twisting the balloons in a desired shape without deflating them. Apart from balloon bending, there are many other party ideas and services given by a professional event and party organizer company in Dubai that can make your party a big hit.
Temporary tattooing, face painting , magic shows, music shows etc. are a few of the most popular party fun ideas and services given by an elite event organizer company. While these services work well for any sort of celebrations but when it comes to kid's parties, their significance knows no bound. These companies have a crew of proficient party entertainers who excels in creating spectacular performances that keep the audience entertained and engaged throughout the event and make the moment memorable.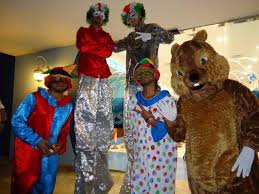 Event and Party Organizers have several crucial roles to perform in which they organize several different types of events. They may be listed as –
Kid's Parties

– Kids tend to be alive and kicking all the time as well as they tend to get bored so often. Keeping them engaged throughout the event is quite a tough task for the party organizers. They enjoy the amusing and colorful things. The professional party organizers know this fact well. Hence, they toil hard to make sure that everything of the party from food to recreation and from decoration to sitting arrangements can feel colorful, amusing and entertained to the kids.
Parties For Festive Occasions

– Depending on the time or the spirit of festive celebration, the event and party organizers decorate the make the arrangements in the most meaningful manner that can match the theme of the event, spirit of the celebration and the interest of the people who are to attend it.
Corporate Events

– Corporate events don't call for gigantic decoration; it requires minimal but classy and exclusive decorations along with the vital arrangements for the events that are to be held. The organizers are expected to arrange the amusing theme, snacks and seating arrangements as well as providing hospitality.
These are just to name a few of the most common events that can be organized by the professional event and party organizers in Dubai. The actual list is limitless. It can be just anything. So, if throwing a party for any of the special occasion is in your near future, do consider hire the services of a reputed and reliable party organizer company. This is the only way to stay assured that your celebration would be a big hit in the area and will be remembered for years if not forever!