Ensure A Stress Free & Successful Event With Party Planner
Throwing a successful party requires proper planning and apt execution of the same. It calls for putting a lot of time and close attention to every detail of the event. Paying attention to every area of the event can be a huge challenge and an amateur can barely gain ground in looking into every detail so that no possible glitch may occur that can throw water on the overall effort of planning a milestone party.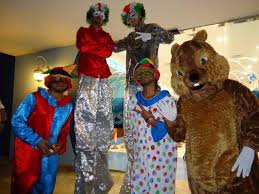 Why to take the risk when we can easily ensure having the great party by hiring the help of a professional event planner or paying for the venue decoration services. A professional event planner can take the stress away and also ensure that your party will be the one that will stay in the heart of attendees for years.
No matter how big or small your event is going to be in nature, a proficient party planner can aid you a lot will all the essential details of the celebration that you want to outsource. From Venue decoration services to menu planning and from mascot rentals to furniture arrangements, they are there at every step. Listed below are some of the areas a reputable event coordinator can handle.
They Have Connections To Caterers

– An experienced party planner has strong working bond with caterers and other professionals that can help you have mouthwatering menu and scrumptious food for the event. Of course, the party planner does not prepare the food for the event but they can recommend you the right caterer for your need. Besides helping in the regard of menu planning, they also work with bakers, beverage providers and other specialists.
They Help You Find Party Entertainment

– More often than not, an event planner provides the several different kinds of entertainment options for event depending on the theme and demand of the occasion. You might just want a quartet or band or require a DJ to provide a music mix. Besides arranging the music, they can also set up other kinds of entertainment like clowns, puppets, jugglers or magicians.
They Can Help You Find Party Rentals

– Arranging the right sort of furniture for the party is the most challenging task. if the venue you book to celebrate the occasion doesn't provide tables and chairs or if your demand is something special, a planner van help you hire the desired type of furniture at the most affordable price.
They Help You Find Additional Help

– Do you want a bartender mixing drinks or a chef preparing a special dish? How about having well dressed waiters to attend to your guests? A party planner can help you employ the uniformed staff so that you may keep your focus on your guests and make your event memorable!
When you are hosting any event, hiring an event planner might seem like an unnecessary expense but it is not. They can be a big help in the process of ensuring a stress free and successful party!